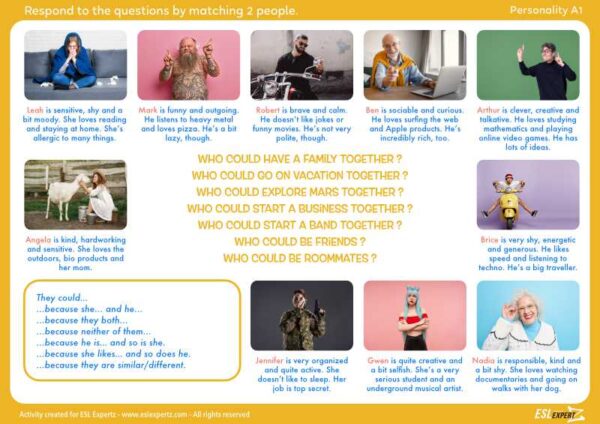 ESL Personality Matching Activity
Students pair 10 individuals for different scenarios based on short profiles before presenting them to the class in this ESL personality matching activity.
ESL Personality Matching Activity
Your students have learned some basic personality traits, they've described themselves and one another, and now it's time for them to go a step further. This ESL personality matching activity is a fun and effective way to do it! Yes, that textbook got you through the basics, but give them something more! Students put their comprehension skills to the test by matching two people together for different scenarios (starting a family, going on vacation, starting a band…). They base their decisions on the small profiles under each photo.
Pass out a copy of the PDF to each pair or send the PDF to all of your students before beginning. Give them some time to read through the descriptions and answer any necessary questions. Students are given some time to answer as many questions as possible in the center of the PDF. On the bottom left they will find some useful structures to explain their choices. Once everyone has finished or time is up, they will all present their pairings to the class. You can vote on the best, funniest, worst pairings for each scenario.
If online, send the pdf to your students and then display the pdf on your screen. Put them in pairs to discuss one scenario at a time with a time limit. Then, bring them back to the main room to present their pairings.
To make the activity a bit harder, tell your students to choose 5 scenarios and pair each person only once. This will make the decisions even more complex!
We have chosen these particular adjectives to be in line with useful vocabulary on the Cambridge A2 Key exam.
1 review for
ESL Personality Matching Activity
It takes a team of 13 to create and produce this material. In order for that to continue, please think about purchasing your own subscription to ESL Expertz and encourage your colleagues to do the same. We appreciate your confidence and support!