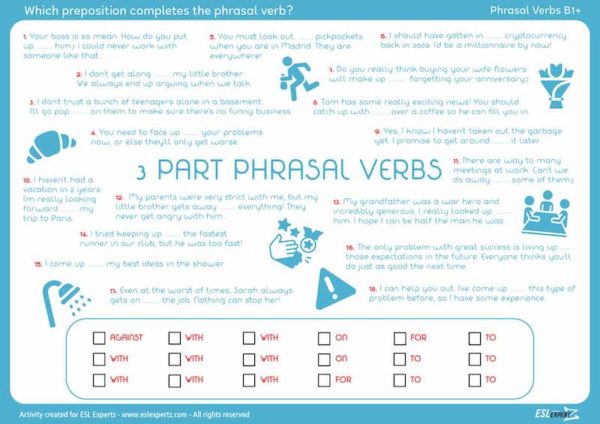 Three Part Phrasal Verbs with Prepositions
Discover and practice 18 three part phrasal verbs with this online friendly activity.
I'm always surprised when a student uses a lesser known phrasal verb like show up or pop in while they are speaking (it makes me so proud, too), but even more shocked when they throw out the three part phrasal verbs without blinking! This Three Part Phrasal Verbs with Prepositions activity puts 18 verbs in context for your students to discover and practice.
Instructions
Use this activity however you see fit, but here is out recommendation.
Display the PDF for everyone to see. Take turns having students try to fill in the blank with the appropriate preposition.
Once the correct preposition has been found, write it in and check the box underneath.
Ask the same student to rephrase the sentence to ensure comprehension.
Go to the next phrase.
Once the activity is complete, we recommend giving your students 5 minutes to come up with 10 questions to ask a partner using the three part phrasal verbs with prepositions from the activity. Then, put them in pairs or breakout rooms in order to ask and answer the questions they've written. This gives time for discussion, repetition and hopefully retention!
Looking for more? Check out all our Phrasal Verbs Activities and our Advanced Activities.
1 review for
Three Part Phrasal Verbs with Prepositions
It takes a team of 13 to create and produce this material. In order for that to continue, please think about purchasing your own subscription to ESL Expertz and encourage your colleagues to do the same. We appreciate your confidence and support!