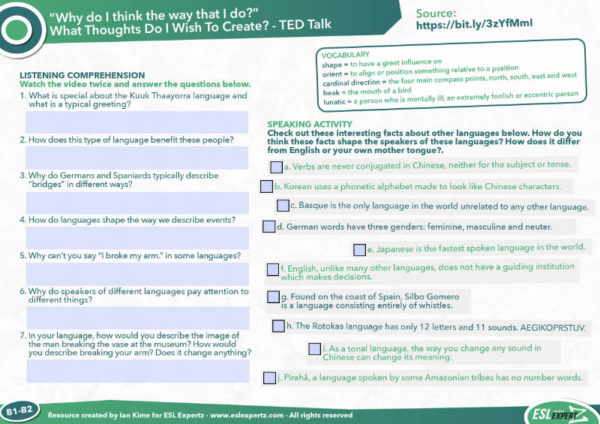 Online Friendly ESL Discussion Worksheet: Language and Thought
Learn how a language's constructions or grammar can affect the way we see the world and then learn about several interesting languages.
Warm-up question: Which languages do you speak and how do you feel differently when speaking in each one? (e.g. English is my native language, but I speak it slowly and carefully because I want to be clear. With French, I hardly ever think about what I am saying! Sometimes with not so good consequences.)
Watch the video once: Ask your students to give you one example of a similarity or difference between their native language and one of the languages mentioned in the video. The link to the video is also on the PDF.
Vocabulary: Check out the vocabulary on the PDF and answer any questions.
Watch the video again: Answer the questions on the PDF in pairs.
Speaking Activity: Put students in pairs to complete the speaking activity – directions on the PDF.
If you've still got time left over, put your students in new pairs or small groups and discuss the 3 questions on page 2 of the PDF.
The video: https://www.youtube.com/watch?v=owpVaVvQknE
Something similar?
It takes a team of 13 to create and produce this material. In order for that to continue, please think about purchasing your own subscription to ESL Expertz and encourage your colleagues to do the same. We appreciate your confidence and support!