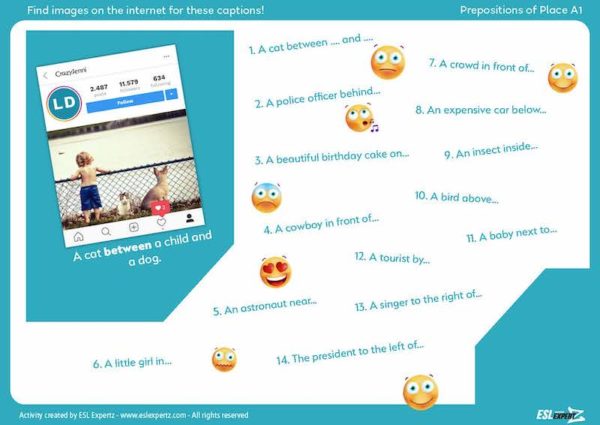 Instagram Prepositions of Place Game
Surf the internet or check your Instagram to find an image completing the captions on the worksheet in this fun and online friendly Instagram Prepositions of Place Game.
My colleagues came up with this one, and I thought it would be great fun in an ESL/EFL/TESL/TEFL classroom, too! Though I don't work with young people, I bet this Instagram Prepositions of Place Game would be a big hit with teenagers. Or is Instagram not cool anymore, either? Hard to keep up.
The concept is pretty clear, so no need for directions. Use your imagination to come up with some fun activities using this worksheet, or use our recommendations:
Play as a class. Choose one of the captions and then give your students a time limit to find a picture on the internet to complete it. Students then present their images and final captions to the class. Vote on the best.
Let students each choose a caption at random. Give them a moment to find an image to complete it. Then, one by one students show their images without saying anything and the first student to complete the right caption correctly wins a point.
Give a time limit for your students to scroll through their feed looking for images to complete the captions. They can take a screenshot each time to keep score. They can then present the images once time is up.
It's called the Instagram Prepositions of Place Game, but… while ideally your students would do their best scrolling through their feed to find images at random to complete the captions, it's gonna be tough to get some of them like that, and one or more may not have an Instagram account anyway. In that case, ask your students to share a phone, use a different social media account, or jump on google.
Looking for another Instagram based activity? Practice feelings & emotions vocabulary with this Instagram activity.
It takes a team of 13 to create and produce this material. In order for that to continue, please think about purchasing your own subscription to ESL Expertz and encourage your colleagues to do the same. We appreciate your confidence and support!