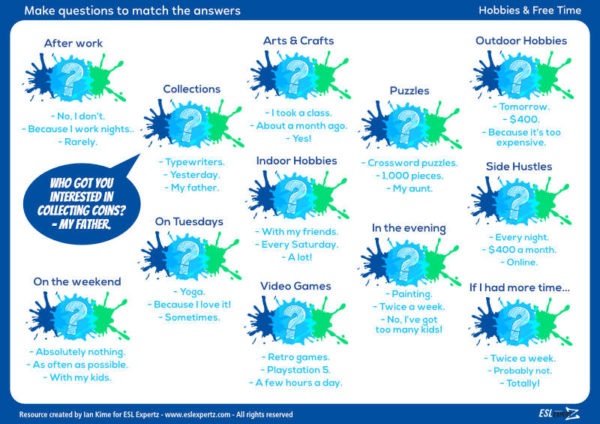 Hobbies and Free Time Question Game
Use this open-ended question game that will practice your students' question-making abilities and give you an extra discussion activity at the end!
Instructions
Display the PDF for everyone to see.
Choose a theme and tell your students to make 3 questions and each question must be answered by one of the responses. Also, make sure they understand their question must pertain to the theme!
Set a time limit appropriate for your group.
Students present their three questions to the class. Once all of the questions are presented and corrected, students earn a point if they proposed an original question (not identical to another student's).
Go to the next theme and play as many rounds as you'd like.
To go further, put your students in pairs and have them ask their questions to a partner for a bit of free discussion time.
Collections

What does Tom Hanks collect? – Typewriters
When did you last sell something from your collection? – Yesterday
Who got you interested in collecting coins? – My father
It takes a team of 13 to create and produce this material. In order for that to continue, please think about purchasing your own subscription to ESL Expertz and encourage your colleagues to do the same. We appreciate your confidence and support!