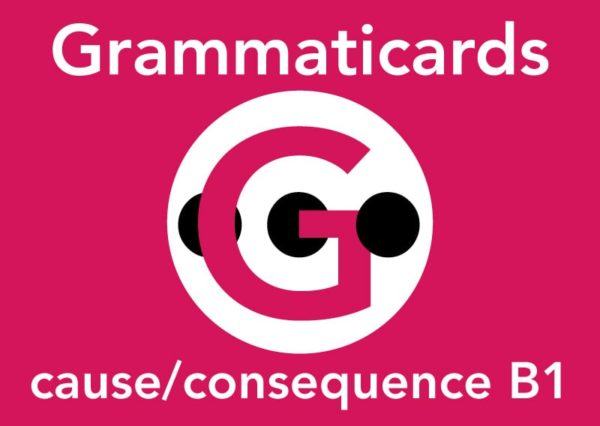 Grammaticards: Cause and Consequence
Rapid-fire English grammar activities from the ESL Expertz!
Description
Grammaticards are reusable tools created to facilitate regular review of specific grammar points quickly and efficiently.
Gramaticards are fun "finish the phrase" cards that you can use as a warm-up or at the end of any lesson (you know, when your lesson plan wrapped up quicker than you expected!) as a quick and dynamic review. Collect and mix other Grammaticards covering other grammar points to review multiple grammatical concepts in the same review.
Each set contains sentence fragments requiring the use of a particular grammatical structure. In this set, students must complete phrases with a cause or a consequence according to the logic connector.
---
Target Language
Structures for cause and consequence!
For example :
Cause: Since you ate it all, there is no more ice cream in the house.
Consequence: I like pop music so much that I have Madonna posters all over my house.
---
Level
Great for B1-B2 students or any group that has already discovered some structures for cause and consequence.
---
Includes
A PDF with instructions for all the variations and printable cards (60 sentence fragments with time connectors to complete);
A VIRTUAL VERSION folder which groups together all the game cards in JPG or PNG format to increase the usability of this resource: playing the game during your online lessons via screen-share or on a virtual whiteboard, using a projector or interactive whiteboard in your classroom, using your computer screen to display the game cards to your class, or making a limited selection of cards to print in order to limit printing and cutting.
1 review for
Grammaticards: Cause and Consequence
It takes a team of 13 to create and produce this material. In order for that to continue, please think about purchasing your own subscription to ESL Expertz and encourage your colleagues to do the same. We appreciate your confidence and support!