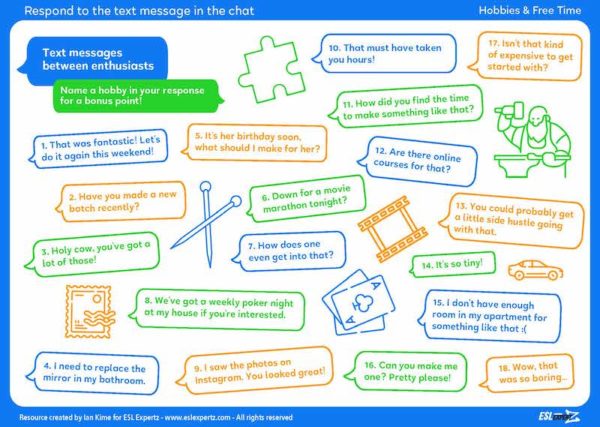 Which Hobby Are They Talking About?
Read these messages between enthusiasts of various hobbies and activities. Respond to the message and have others guess which one! Great micro-writing activity with real world applications.
Instructions
Display the PDF so that everyone can see.
Students take turns responding to one of the messages in the chat.
Other students read their response, and the first of them to guess which message they are responding to earns 2 points, and the message writer earns 1 point.
A bonus point can be awarded to the writer if a hobby is mentioned in the response.
Play as many rounds as you'd like. The student with the most points at the end wins.
It takes a team of 13 to create and produce this material. In order for that to continue, please think about purchasing your own subscription to ESL Expertz and encourage your colleagues to do the same. We appreciate your confidence and support!