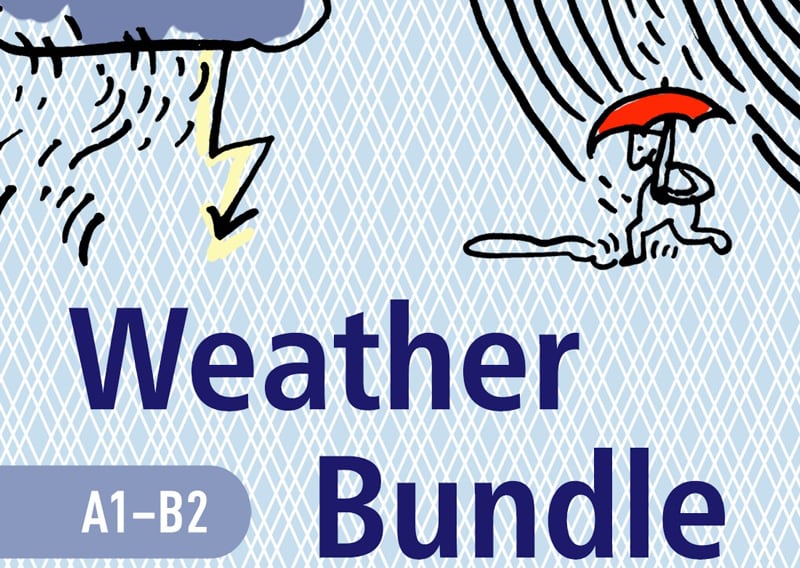 "Weather Bundle" is a set of activities to get your students to talk about the weather in varied and sometimes unusual contexts. It can be used to introduce or review weather and weather-related vocabulary including common expressions. Because the activities range from A1-B2, this is the only weather-related resource you will ever need!
Description
Here are 5 different activities for discovering, mastering, and enhancing your students' command of weather in English.
Discovery: Teach your students basic weather phrases with hand-drawn pictures that are sure to make an impression. There is also an advanced version for your higher-level students to introduce them to more advanced and informal weather phrases.
The odd one out: Test your students' knowledge of weather-related phrases and practice their reasoning and discussion skills.
Which is better?: A game of review and discussion. When it's raining cats and dogs, is it better to listen to jazz or plan your best friend a surprise birthday party? Let your students decide!
Can we?: An advanced level review game of all weather-related situations.
Write a passage from a romance novel: An old author of romance novels has plenty of ideas, but no clue how to put them to paper. Your students will be helping him finish his story. It's a romance novel, so the weather plays an important role in describing emotions and feelings. Test your students' knowledge and push their writing to the next level.
---
Target Language
Must we even specify?
---
Level
There are activities ranging from A1-B2 which means you will never need anything else.
---
Includes
A printable PDF with all game material and teacher instructions
3 reviews for
Weather Bundle
It takes a team of 13 to create and produce this material. In order for that to continue, please think about purchasing your own subscription to ESL Expertz and encourage your colleagues to do the same. We appreciate your confidence and support!