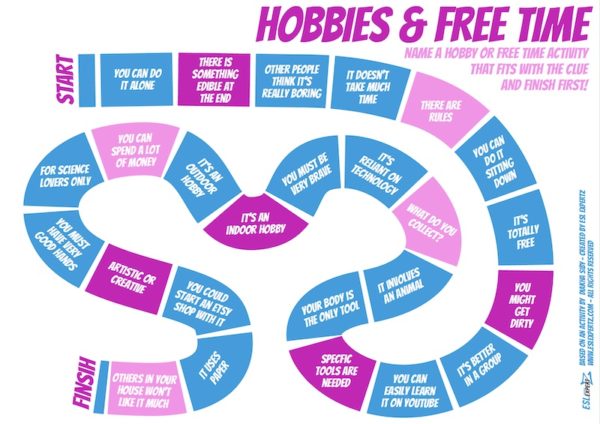 Hobbies & Free Time Vocab Board Game
An easy to use board game to add to any lesson plan having to do with Hobbies & Free Time. Students can play in pairs, small groups or as a class! Online or offline, with a real or virtual die.
Students race from start to finish in pairs, small groups or as a class, naming a hobby to fit each clue they stumble upon and justifying their answer! To make it more difficult, students can't mention the same hobby twice, and they can't name a sport! It is up to you what you want to expect from the justification portion. There are several possible answers for each clue, so the justification is what really counts.
Clue: It uses paper

Writing poetry. Yes, you can write in on your phone but it's much better in a notebook.
Origami needs paper, there is no substitution.
Drawing can be done on many things, but paper is traditional.
Playing card games uses paper because the cards are actually made of paper.
If you are reading a book, the book was printed on paper!
etc.
It takes a team of 13 to create and produce this material. In order for that to continue, please think about purchasing your own subscription to ESL Expertz and encourage your colleagues to do the same. We appreciate your confidence and support!