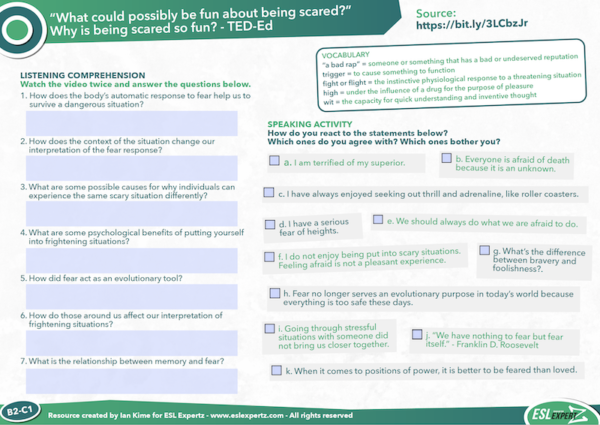 Online Friendly ESL Discussion Worksheet: Fear
A 60-minute no prep ESL discussion interactive PDF worksheet for advanced students on why it is so much fun to be scared. TED-Ed video.
Most people don't like to be scared, but some of you people are nuts and love that adrenaline rush of being scared out of your wits! I shudder when I think about going into a haunted house… But every Halloween my friends went together as a big group to the big Haunted House at the Children's Museum downtown. I was more of a corn maze type of kid… Use this fear ESL discussion worksheet to talk about why being scared is so fun (for some) as an interactive PDF for your online classes or offline as a printable.
If you like warmers (it's basically my favorite part of the lesson), here are two ideas. If your group knows each other well and are open to talking about themselves, you can have them talk about some of their fears and make a list. At the end, see how many people are afraid of each thing. If your group isn't at that friendly a stage yet, you can have a fun guessing game of phobias. Say and type the name of a phobia and have students guess what it's about. You can find a list of phobias if you click here >>
After the warm-up, start by distributing the PDF to your students and follow the directions.
The video: https://youtu.be/oetVvR5RQUs
1 review for
Online Friendly ESL Discussion Worksheet: Fear
It takes a team of 13 to create and produce this material. In order for that to continue, please think about purchasing your own subscription to ESL Expertz and encourage your colleagues to do the same. We appreciate your confidence and support!