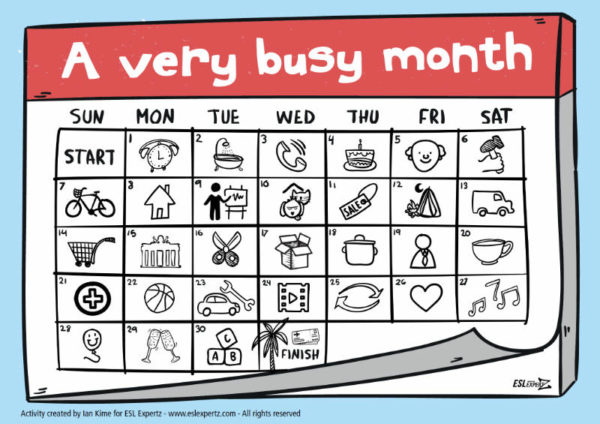 ESL Calendar – Board Game
This open-ended ESL Calendar Board Game is a start to finish dice rolling game that can be outfitted for several uses and levels. Playful, aesthetic and rich in content.
How to use this activity?
The ESL Calendar Board Game was designed for the online classroom but works great as a printable, too!
Display the game board for everyone to see and use your whiteboard tools to create game pieces for the players. If offline, print out a game board for each group and use random objects as game pieces.
The objective is to get to the end of the very busy month and go on vacation. So, it's true to life. Players roll a die to advance, following the days of the month.
Each time a student lands on a space, they must say something connected to the image on that day. This is an open-ended game, so feel free to come up with your own questions or objectives! Below, you will find some of our suggestions.*
The first student to reach the finish line gets to go on vacation and wins the game. As their final phrase, they must tell the class about the vacation they are about to take!
*Some suggestions for objectives:
Tell the class what you have to do that day (A0-A1);
Tell the class what you did on that day (A0-A1);
Tell the class what you are going to do on that day (A1);
Come up with an excuse for why you can't do what's on your to-do list that day (A2-B1);
Ask someone in your group a question about what you have to do that day – invitation, favors, permissions, etc. (B1);
etc.
It takes a team of 13 to create and produce this material. In order for that to continue, please think about purchasing your own subscription to ESL Expertz and encourage your colleagues to do the same. We appreciate your confidence and support!