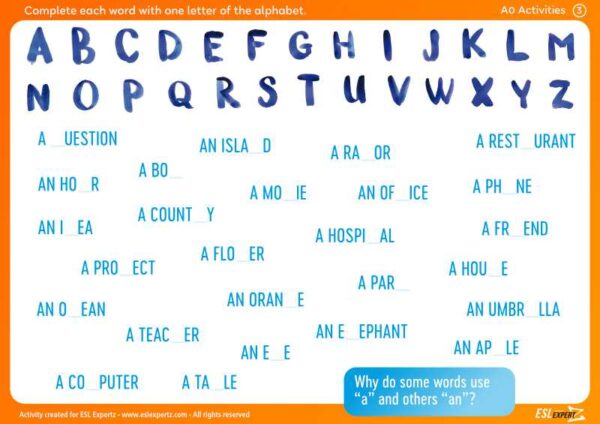 A0 Alphabet Activity: A Missing Letter
Review the alphabet, discover new words and introduce the articles a and an to your beginners.
Your students have introduced themselves, and they've encountered the madness of English pronunciation while learning numbers and the names of cities. Now it's time to add to that knowledge while drawing out some latent information already inside with this A0 alphabet activity. This missing letter activity can be done individually, in pairs or in small groups. Each letter is used only once. Give them time to complete the exercise, then correct as a class. Go through the pronunciation for each word with your class repeating your sounds (try splitting the class in half and see which half has a better pronunciation as a group!). At the bottom of the worksheet, there is a question about the two articles a/an. Ask the class the question; does anybody know the answer? There are plenty of examples of a and an in the worksheet, so it should give them a good clue!
It takes a team of 13 to create and produce this material. In order for that to continue, please think about purchasing your own subscription to ESL Expertz and encourage your colleagues to do the same. We appreciate your confidence and support!