Let's share with you a fun activity based on a bigger ressource called Grammino Conditionals. This game is perfect for you if you are looking for ideas to make your students speak using conditional. If you're looking for more activities on this grammar point, check all our Conditional activities. Also, all our ESL Games are ready to be used and share with your students.
—-
I can't lie to you, there are days when lessons just sneak up on me. That little ZOOM beep-beep-beep rings out like a foghorn reminding me of my non-existent lesson plan and an upcoming 60 minutes with 4 students staring back at me from my screen as if to say, "We know what you didn't do last night…"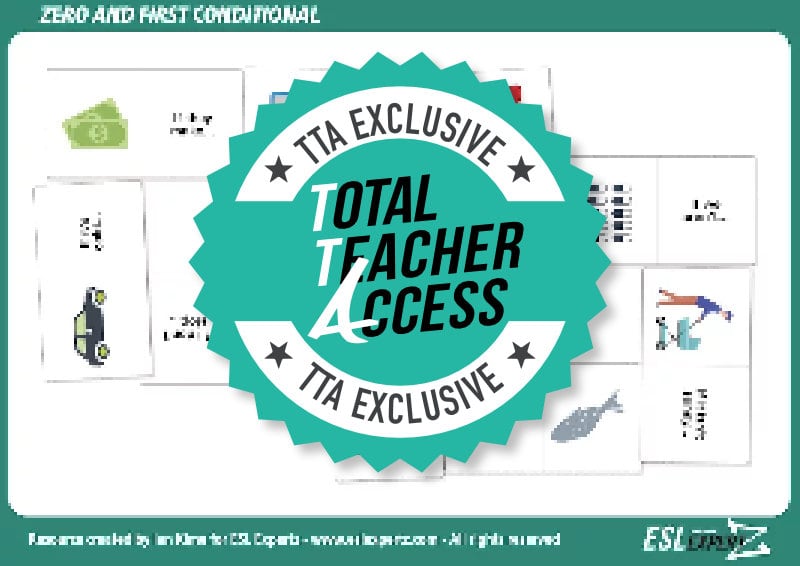 Access to the worksheet is only for Total Teacher Access Subscribers.
Log in to your account or sign up for Total Teacher Access to download this activity and much more.
---
It happens. The only thing to do is buy yourself some time. But how? Interrogate them about their weekends? Oh, it's Thursday and you just saw them 2 days ago? Nothing new has happened, or at least, nothing that can buy you enough time to search through that textbook PDF and get some kind of plan in order. And plus, if they're answering your questions it's generally polite to look them in the… screen?
Fear not my brave (if not a bit disorganized) ESL teacher! Here is a warm-up activity that you can slap on that screen, look like a champion of a teacher, and fool around in your file folders while you figure out if the group is on lesson 7.1 or 7.2…
Behold! A blog post special adaptation of our popular Grammino Conditionals resource fit for a stud of an ESL teacher such as yourself. Gramminos are sets of domino-inspired game cards to print, cut out and use in the offline classroom. The resource also comes with a virtual version which can achieve something similar to what is found in this post.
The concept is simple but the aesthetics are high, which is what will make you look like an organized professional with emphasis on the "look like." There are 4 pages in the PDF corresponding to the different English conditionals with the 4th page being a mixed bag review. Depending on how much time you would like to spend on the activity, you could use it in one of a few ways. Here are a few examples:
Choose a student to start with the beginning of a phrase and have them connect it to the image on the next domino. Be sure to tell them that this connection can be incredibly loose. If they see and image of a baby, they could mention a stroller, baby food, daycare, etc. They can say their sentence out loud, and the other students can correct them if needed. Once that is accomplished, the next student can continue in the domino chain. Have them continue like this until you wish to end the activity.
Play like above except have students write their sentence in the chat. Again, other students can correct them if they are wrong.
For each domino pair, give your students 1 minute to come up with a brilliant sentence. Have your students share their sentences. The best, funniest, saddest, most ridiculous, etc. sentence wins.
For each domino pair, give your students 2-3 minutes to write down as many sentences as they can. The student with the most grammatically correct sentences written in the chat wins.
etc.
Download this one now before you get stuck in a jam!
Happy teaching,
Ian