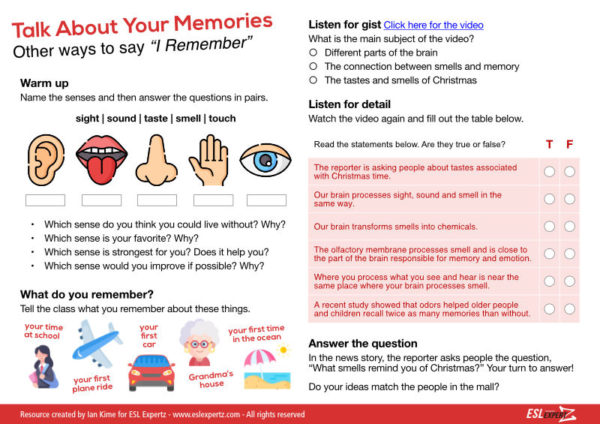 In this 90-minute lesson for intermediate (B1) groups and individuals, students will discover new ways to talk about memories that will improve their comprehension and conversation skills.
The authentic material comes from a local news broadcast in Minneapolis, Minnesota. The segment is about the connection between smell and memory and how our brain processes the information differently than with the other senses. Why does the smell of cookies take you back to your childhood? How does smelling someone's cologne make you think of your father?
In the lesson you will a warm up matching activity connected to the 5 senses with some discussion questions. Then, students are asked what they remember about certain things from their past. Next, there is a listening for gist and then a listening for detail true or false comprehension exercise. After that, students look at some of the relavent structures they heard in the video along with discovering some new structures in context. A matching exercise with CCQ's (found in the teacher version) helps to integrate the structures. A guided fill in the blank activity gets students to use some of the structures using their own experiences followed by a game played in pairs or groups. Students are faced with a collection of objects. They must tell their partner what memories they evoke, and the partner guesses which object evoked them.
Building this lesson brought me back to when I first starting teaching English. So many structures I had never thought about and their connections to real functional language. Talking about memory was one of the first things I thought I managed to teach well!
Click on Download All to get the student and teacher versions.
It takes a team of 13 to create and produce this material. In order for that to continue, please think about purchasing your own subscription to ESL Expertz and encourage your colleagues to do the same. We appreciate your confidence and support!