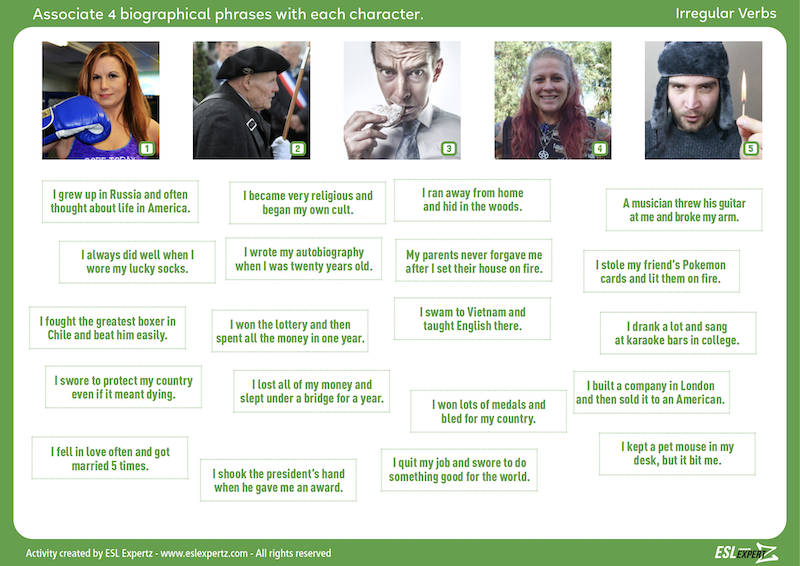 Irregular Biographical Verbs Activity
Match the biographical statements with irregular verbs to a character and then fill in the gaps of their story!
It's day two of our 15 days of irregular verb activities and we've got something here for your intermediate students! Students must associate the biographical phrases laden with irregular verbs with the four characters at the top of the page.
How it works
Display the PDF, or send the file to your students. Put students in a maximum of four groups. Give students a time limit (if applicable) to associate the biographical statements with the characters. They must use all of the statements! Once everyone has finished, students will present their characters and determine if they share any storylines with the other groups.
Once students have an outline of their characters, assign each group or individual a character for which they must write a short biography, filling in the gaps between the biographical statements they chose. Set a word limit, time limit, or assign the writing activity for homework. By doing so, students will reuse the irregular verbs found on the PDF, along with creative use of past tenses : past simple, past perfect and past continuous.
More irregular verb activities
If you're looking for more ways to practice irregular verbs in your online or offline ESL classroom in an engaging and effective way, check out all of our irregular verb activities.
It takes a team of 13 to create and produce this material. In order for that to continue, please think about purchasing your own subscription to ESL Expertz and encourage your colleagues to do the same. We appreciate your confidence and support!