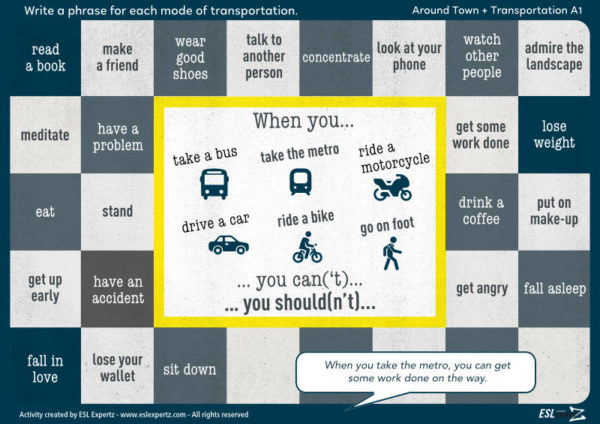 Modes of Transportation Activity
Use this modes of transportation activity to introduce or review modes of transportation, their collocations, basic verbs for A1 students, and the modal verbs can and should.
How do you get around? Back in Warsaw I was a metro and car guy. The trams were great but waiting out there in the winter for the 31 tram got old quick! Because it's such a modern city, the car was way too convenient, and I ended up driving places I could've taken the tram too. Not so proud about that, but have you ever tried biking in Warsaw?! Living in a smaller city in France, the car is simply out of the question. It takes twice as long to bike somewhere as to drive! Oh right, about this modes of transportation activity…
Use this activity to introduce or review a few modes of transportation along with their verbs and collocations. Students will also be able to review some basic verbs they'll need to know at lower levels.
Instructions
Put students in pairs. They will be charged with creating 6 phrases, one for each mode of transportation, by combining the bits of phrases in the middle with the activities in the boxes. They have 2 structures and 4 options to choose from to complete their phrases you should/shouldn't/can/can't. Can't review those modal verbs too often, can you?
Once the pairs have created their six phrases, come back as a class and present the ideas. Encourage your students to give a reason for why one can/can't/should/shouldn't do something!
Switch pairs and repeat as many times as you think they need, then, get rid of the PDF and ask students about how they get around to certain places in their city.
Looking for more? Have a look at all our Modal Verbs Activities.
It takes a team of 13 to create and produce this material. In order for that to continue, please think about purchasing your own subscription to ESL Expertz and encourage your colleagues to do the same. We appreciate your confidence and support!