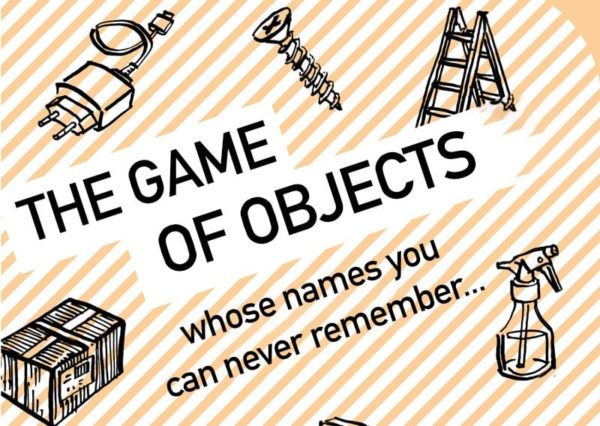 What's that thing called we use to cut cheese into little pieces but it's not a knife… the uh… the… oh you know what I mean!
This is the perfect game for your students to discover and memorize the everyday objects whose names are hard to remember. Learn with fun activities and 92 illustrated cards!
Description
Every language learner runs into the same problem: there are some words, for whatever reason, that are just really difficult to remember. What's more, they are often the names of objects we use every day! So, how to master the English vocabulary of everyday objects? This game gives your students the opportunity to discover and memorize these difficult yet quotidian objects.
These are objects that concern health, home improvement, the office, the home, the kitchen, etc. Afterward, your students will no longer need to say things like, "Pass the thing/machine/watcha'ma call it…?"
This game is primarily based on 92 hand-drawn object cards which you will use for different activities found in the PDF to master the English vocabulary of everyday objects. The PDF includes instructions for several activities:
describe the object based on its appearance, form, and various uses and make other students guess the name of the object;
describe what the object isn't (quite challenging);
conquer a challenge using only everyday objects;
and more!
---
Includes
a 9 page PDF with instructions for 4 variants and 3 supplementary activities, 92 illustrated object cards, and 22 challenge cards.
a VIRTUAL VERSION folder which gives you JPG's of all the necessary game material. Use this version for your online lessons by screen-sharing or using an online whiteboard. Use them in the classroom on your computer or with the aid of a projector. Print only the cards you need in order to limit your printing and cutting.
Are you looking for other games and activities with illustrated vocabulary? Then check out My Town or Where is the sheep? Want to learn the same vocabulary in French? Check out the original resource here!
If you have any questions regarding this resource or any other resources found here at ESL Expertz, please send an email to contact@eslexpertz.com
It takes a team of 13 to create and produce this material. In order for that to continue, please think about purchasing your own subscription to ESL Expertz and encourage your colleagues to do the same. We appreciate your confidence and support!