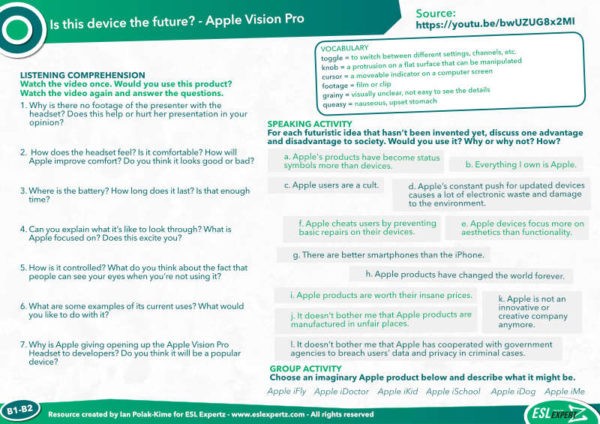 ESL Discussion Worksheet: Apple Vision Pro
Give your students a quick look at the future with this Apple Vision Pro ESL Discussion Worksheet, one of the first reviews of Apple's new product!
The future is coming early next year when Apple releases its latest innovative product: Apple Vision Pro, an augmented/virtual reality headset set to revolutionize how we interact with a computer interface. The first demos for a select group of people have already taken place, but Apple is still being very secretive about the whole thing. In this Apple Vision Pro ESL Discussion Worksheet, you'll get the opinion of the Wall Street Journal's technology editor of her short experience with the Apple Vision Pro.
Instructions
Use this ESL Discussion Worksheet however you'd like, but here's what we recommend:
Warm-up: Ask your students if there is any electronic device they don't have but would really like to have. Have them elaborate on why and how it would benefit their life.
Watch the video once: At the end of the video ask everyone the same question: Would you like to use this product? Why or why not?
Vocabulary: Check out the vocabulary on the PDF and answer any questions.
Watch the video a second time: Answer the questions on the PDF in pairs.
Speaking Activity: Put students in pairs to complete the speaking activity – directions on the PDF.
If you've still got time left over, put your students in new pairs or small groups and do the group activity.
The video: https://www.youtube.com/watch?v=bwUZUG8x2MI
It takes a team of 13 to create and produce this material. In order for that to continue, please think about purchasing your own subscription to ESL Expertz and encourage your colleagues to do the same. We appreciate your confidence and support!