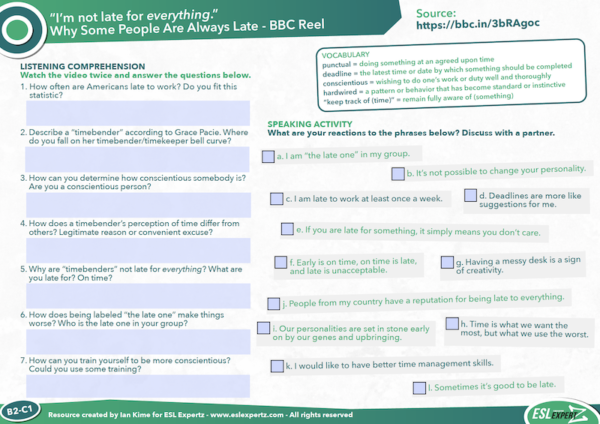 Online Friendly ESL Discussion: Lateness and Punctuality
Time to work out why one of your students is always late. Today you'll be talking about the reasons behind some individuals' chronic lateness and then discuss the importance of punctuality in modern day life with this ESL discussion worksheet.
Use this ESL Discussion Worksheet however you'd like, but here's what we recommend:
Warm-up question: What types of meetings or activities are you usually late for? Early for? Why do you think that is? 
Watch the video once: Ask your students whether they feel like time benders or time keepers and explain why. The link to the video is also on the PDF.
Vocabulary: Check out the vocabulary on the PDF and answer any questions.
Watch the video again: Answer the questions on the PDF in pairs.
Speaking Activity: Put students in pairs to complete the speaking activity – directions on the PDF.
If you've still got time left over, put your students in new pairs or small groups and discuss the group activity.
Start by distributing the PDF to your students, and then watch the video below once or twice.
The video: https://www.bbc.com/reel/video/p0br5sll/why-some-people-are-always-late
It takes a team of 13 to create and produce this material. In order for that to continue, please think about purchasing your own subscription to ESL Expertz and encourage your colleagues to do the same. We appreciate your confidence and support!