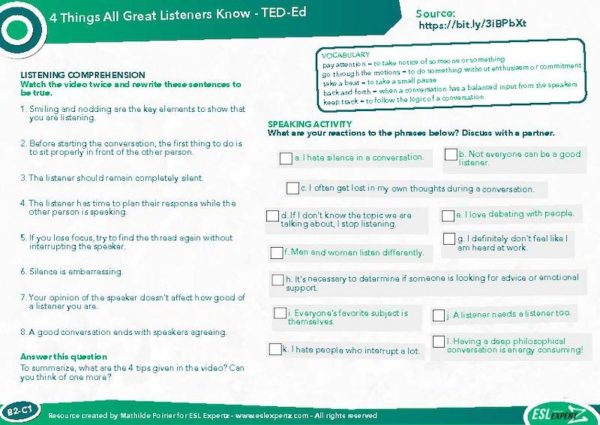 ESL Discussion Worksheet: Being a Good Listener
Is smiling and nodding really enough? Get a refresher course on being a good listener in this very engaging discussion worksheet.
Use this "Being a Good Listener" ESL Discussion Worksheet however you'd like, but here's what we recommend:
Warm-up examples:

Make a list of the elements that make up a good conversation, a bad conversation.
Share an example of a very good or very bad conversation you had recently.
Who do you talk to when you need someone to listen? Why this person?

Watch the video once: You can compare the good and bad conversation elements discussed in the warm up with what was found in the video. The link to the video is also on the PDF.
Vocabulary: Check out the vocabulary on the PDF and answer any questions.
Watch the video again: Answer the questions on the PDF in pairs.
Speaking Activity: Put students in pairs to complete the speaking activity – directions on the PDF.
If you've still got time left over, put your students in small groups and discuss the group activity.
Looking for more? Check all our Advanced Activities and our Discussion Worksheets.
It takes a team of 13 to create and produce this material. In order for that to continue, please think about purchasing your own subscription to ESL Expertz and encourage your colleagues to do the same. We appreciate your confidence and support!