Why are young people so adorkable?
Want to talk about current marketing trends? Use this adorkable ESL discussion worksheet online as an interactive PDF or offline as a printable.
Today you and your students will be talking about the newest aesthetic targeting Gen Z consumers. It's called adorkable and it's making it mainstream in advertisements and marketing strategies for Gen Z focused consumer goods. The word adorkable has even made it into the English dictionary – "unfashionable or socially awkward in a way regarded as appealing or cute." I learned a lot about different marketing marketing strategies while building this worksheet and wasn't shocked to learn that the Millennial's aesthetic is called "blanding" which was a direct response to the Boomers' aesthetic of strong brand identity. But that's for a future worksheet 😉
If you like warmers (it's basically my favorite part of the lesson), download this PDF with a few examples of brands following the adorkable aesthetic. What do your students think? Are they attracted to the aesthetic or turned off? How does it differ from what they are used to?
Start by distributing the PDF to your students, and then watch the video below once or twice.
The video: https://youtu.be/IM92N2h84Wg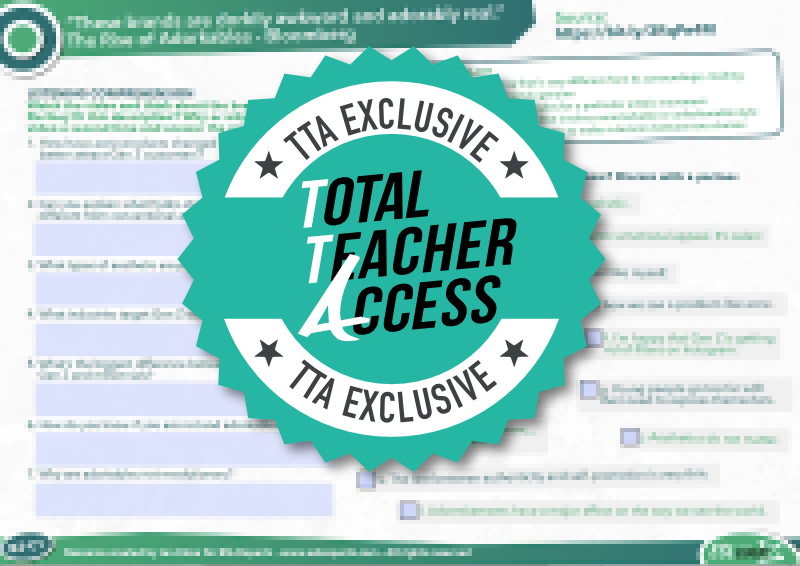 Access to the influencer ESL discussion worksheet is only for Total Teacher Access Subscribers.
Log in to your account or sign up for Total Teacher Access to download this activity and much more.
We hope you enjoy this adorkable ESL discussion worksheet 🙂