This easy setup activity is derived from The Question Game and can be used at any level to practice your students' question-making skills. The activity comes with two "game boards" and a "levels board" but also uses an online dice roller which you can find here or here or wherever you usually find your online dice.
For more grammar content, you can have a look at our Question Activities. And click on the following link if you're curious to know more about our ESL Games.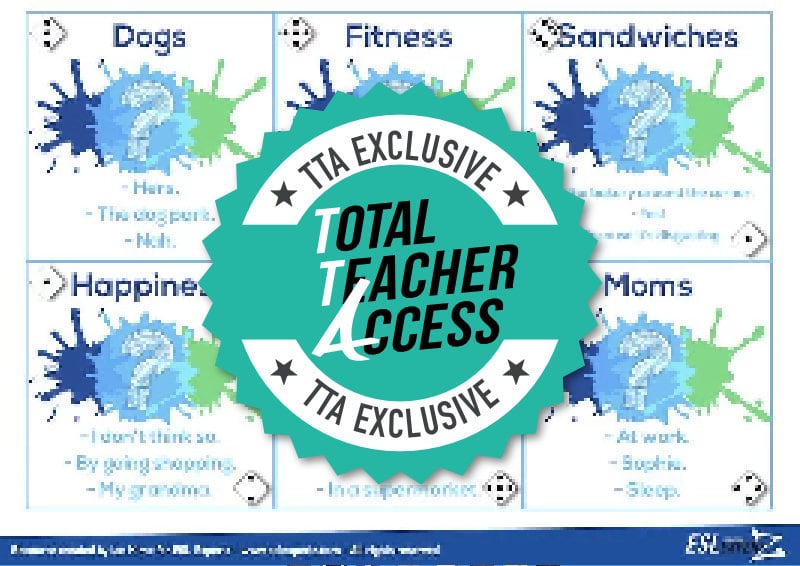 Access to the PDF is only for Total Teacher Access Subscribers.
Log in to your account
or sign up for
Total Teacher Access
to download this activity and much more.
---
Don't feel like reading?
Ordinary version
The basic way to play this game is to choose a box and a level, then give your students 60 – 90 seconds to write 3 questions in the chat which give the 3 answers in the box within the constraint of the level. Make sure they do not send their questions until the time is up. Then, check the questions together for correctness and originality. For every correct and original question a student asks, they receive 1 point. After the 6 rounds, whoever has the most points is the winner.
Dice version
This is a variant of the original version where themes and answers will be switched around based on the roll of 2 dice. You will see an image of a die next to each theme and another next to the set of answers. When you roll the dice, the one on the left will tell you the theme, and the one on the right will give the 3 answers. Then, give your students 60-90 seconds to write 3 questions in the chat which give the 3 answers within the given theme. This mixture of answers and themes will make the question-making more difficult.
You can add a level, or roll a third dice to give the level if you're working with more advanced students.