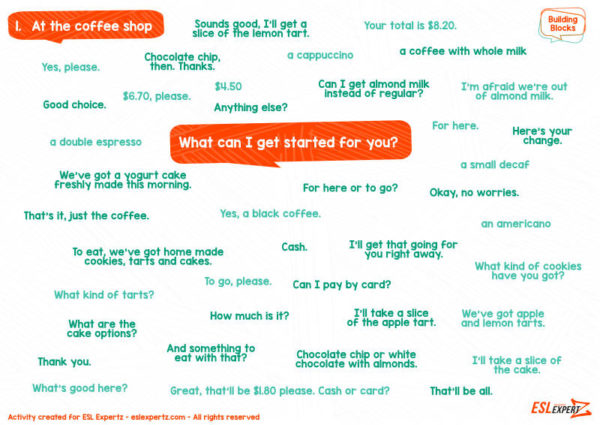 English Dialogue Building Blocks: At the Coffee Shop
Order a coffee and cake at your local coffee shop with confidence. Practice simple English dialogues with real life utility with Dialogue Building Blocks from ESL Expertz.
Practice makes perfect, so let's let our beginners practice and practice and practice some more. I'm happy to present… English Dialogue Building Blocks! In these activities, we dissect some basic dialogues in useful contexts to help your students feel more comfortable with the (real life) basics. In pairs, students will use the fragments of larger dialogues to create their own, giving them the chance to see and repeat useful phrases and keywords in order to integrate them into their speech. This particular English Dialogue Building Blocks activity is for ordering a coffee and cake at a coffee shop.
Here's how it works:
Building Blocks: This activity is designed for your A1/A2 level learners. You will see a framed starting sentence in the middle and scrambled sentences around it. Your learners must try to reconstruct a dialogue starting from one of the framed sentences. There are, of course, multiple possible options depending on the chosen sentences. You can have your students work in pairs. To liven up the class, you can also give additional instructions, such as creating the longest or most original dialogue. PLEASE NOTE that it is generally impossible to use all the sentences in a single dialogue. Students can use the checkboxes if working online to keep track of which fragments they've already used. You could gamify the activity even further by comparing how many checkboxes each pair was able to use, keeping in mind a fragment that has been marked cannot be used twice (to keep it simple and to let your students repeat and practice, ignore the checkboxes).
Role-Play Scenarios: You have three different role-play scenarios. Here, too, you can ask your learners to work in pairs to create dialogues based on the chosen situation. You can then ask your students to perform their dialogues in front of the class. They can agree in advance on the development of the dialogue, but they can also improvise. Another variation is to have them individually imagine a short written dialogue as homework in response to a situation.
It takes a team of 13 to create and produce this material. In order for that to continue, please think about purchasing your own subscription to ESL Expertz and encourage your colleagues to do the same. We appreciate your confidence and support!