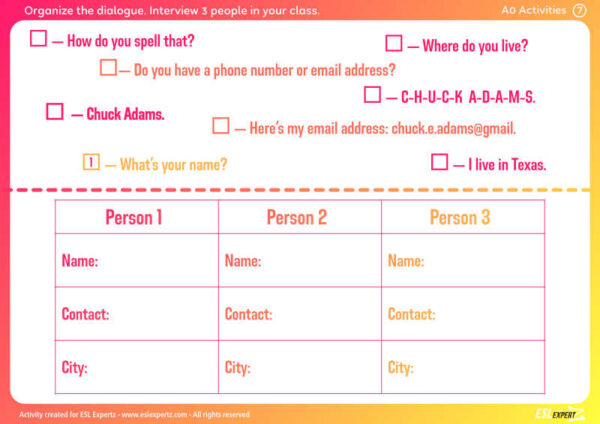 A0 Activity: First Questions
Review introductions, discover some first questions for A0 learners, practice meeting a new person and engage your students.
After getting some contact information for professionals in the area, it's time for your students to get to know each other a bit better. This A0 activity is meant to introduce your students to some "first questions" they might ask someone they've just met in the real world. Use this interactive PDF online or as an ESL printable.
Distribute the PDF to each learner. Ask them to reconstruct the provided dialogue and, based on this example, question 3 other learners and record their information on the worksheet. They can then, if necessary, share the information to the class.
After your done with this first questions for A0 activity, check out the other activities for beginners >>
It takes a team of 13 to create and produce this material. In order for that to continue, please think about purchasing your own subscription to ESL Expertz and encourage your colleagues to do the same. We appreciate your confidence and support!