get got getting board game

Registered users download this PDF file for free.
Already registered? Click here to log-in or create a new account
Objectives:
Practice the multiple uses of the word "get" with this Get Got Getting Board Game in your online or offline classes. This activity focuses on the basic uses of get with a few challenging collocations thrown in.
get as purchase 
get as arrive
get as obtain
get as become
a few more complicated ones; get along with, get away with, get in touch with
How to use the Get Got Getting Board Game
Display the PDF in your online classroom for everyone to see. Use the annotation or drawing tools that come with your application to make game pieces and mark the scores. The image below shows what it looks like when it's being used with ZOOM. You will have similar results with things like Jamboard or LearnCube.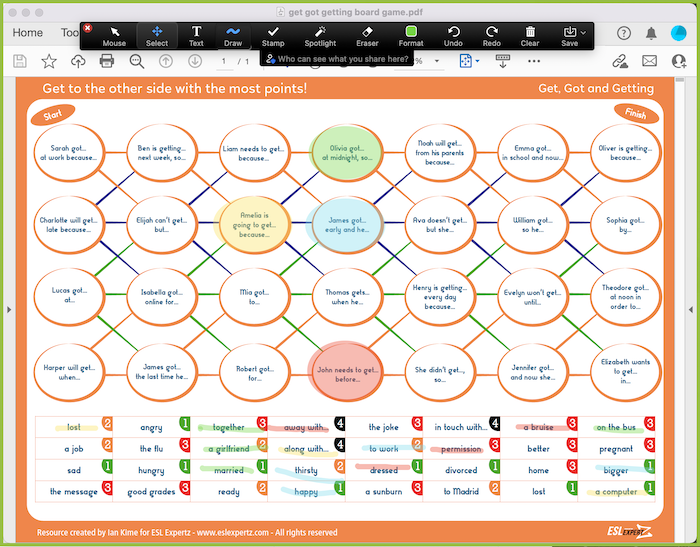 Students start at the left and make their way to the finish line by jumping from bubble to bubble while respecting the connecting lines. They must complete the phrase by using one of the words down below after the get, got or getting and then finish the phrase with their own ideas.
At the end of the game, count the points. The player with the most points wins.
Extra rules:
If playing with 4 or less people, words can only be used once.
Players are allowed to share the same bubble.
If playing with more than 4 people, each word can be used twice.