Today I'm giving you an overview of our "Speaking of…" discussion activities here at ESL Expertz. If you're not familiar, you can find them here, here, here, there, and oh yes, over here.
If you gave me a choice, I would only do conversation and discussion groups. Not because I don't like teaching, I'm just a people person through and through. Asking the same questions throughout the week to dozens of different people is actually exciting to me. The way different groups or individuals respond to the same text or video is something I can learn from as an individual as it opens me up to new reflections.
That's why I like to use the same discussion activity for a week's worth of classes (not to mention the time saved!). When I first started teaching ESL in 2018, I was introduced to a few sites which had some preplanned texts, vocabulary and discussion questions. Some of them worked great and brought the house down while others had me speaking to a room full of crickets. That's when I started making my own conversation lessons with original material and more engaging activities.
Of course, I still had some days where I fell flat on my face… But over time the lessons improved and I always satisfied after a good "performance." Then, I met Les Zexperts and they showed me their methods of facilitating discussions in a language classroom. Their ideas were simple yet versatile and never let the material get in the way of a good conversation. This is where our "Speaking of…" activities come from.
For the moment there are 2 basic classes of "Speaking of…" discussions. There is the polarizing phrase method and the mind map.
The polarizing phrase
Depending on my group, a list of questions actually does work well, but not every week. It's good to keep them on their toes and coming back week after week. But there are many ways to facilitate a discussion based on an intermediary video or text.
The agree/disagree method gets rid of the questions and replaces them with phrases that are meant to generate strong opinions. Students take turns agreeing or disagreeing with any of the statements found on the sheet and then elaborating on their point of view. Some students give examples while others may give a mini speech on their life philosophy. Students must dive a bit deeper to reach for their vocabulary and express themselves clearly rather than answering a more precise question. Other students need to listen closely, too, because you can easily ask an individual whether or not they agree with whoever just spoke.
Here is an example from a video about a controversy stemming from a children's cartoon movie in Canada. It's called, What's the big deal with bigfoot?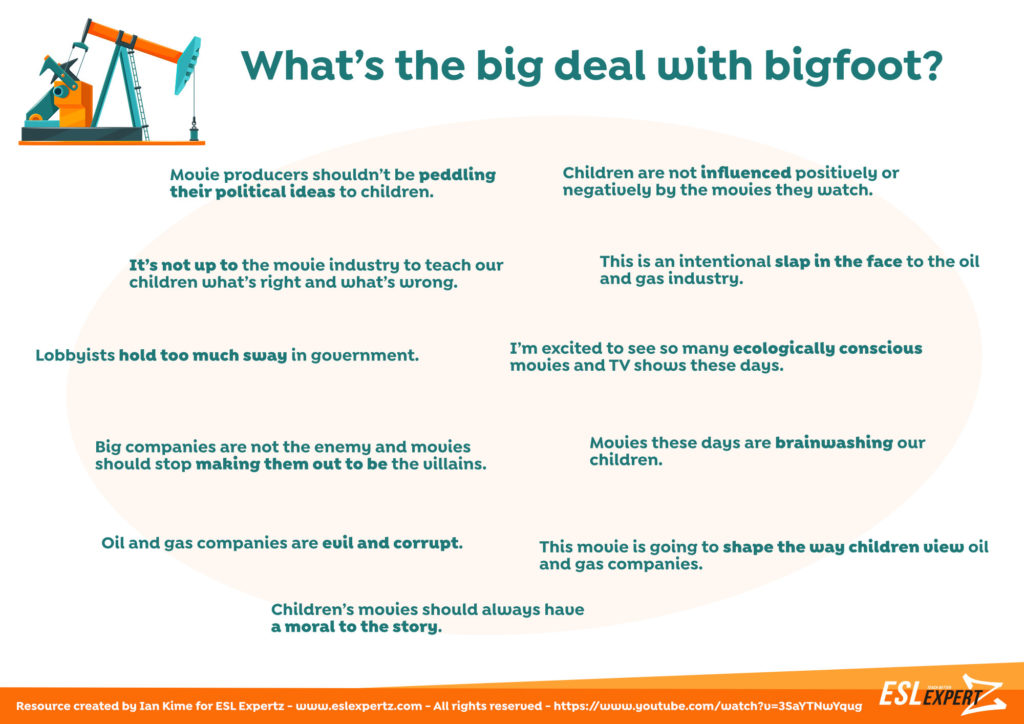 Our main goals here at ESL Expertz are to create effective and aesthetic resources and activities. Why aesthetic? If you've ever passed 5 minutes on islcollective and the like… you'll know why we feel it's so important. I started making my own resources for my students because I was embarrassed by some of the activities I was printing from elsewhere.
You will notice, too, that most of our phrases have a single word or expression in bold. This vocabulary typically comes directly from the video, but may also be a useful English phrase. For example in Escaping the Iron Curtain.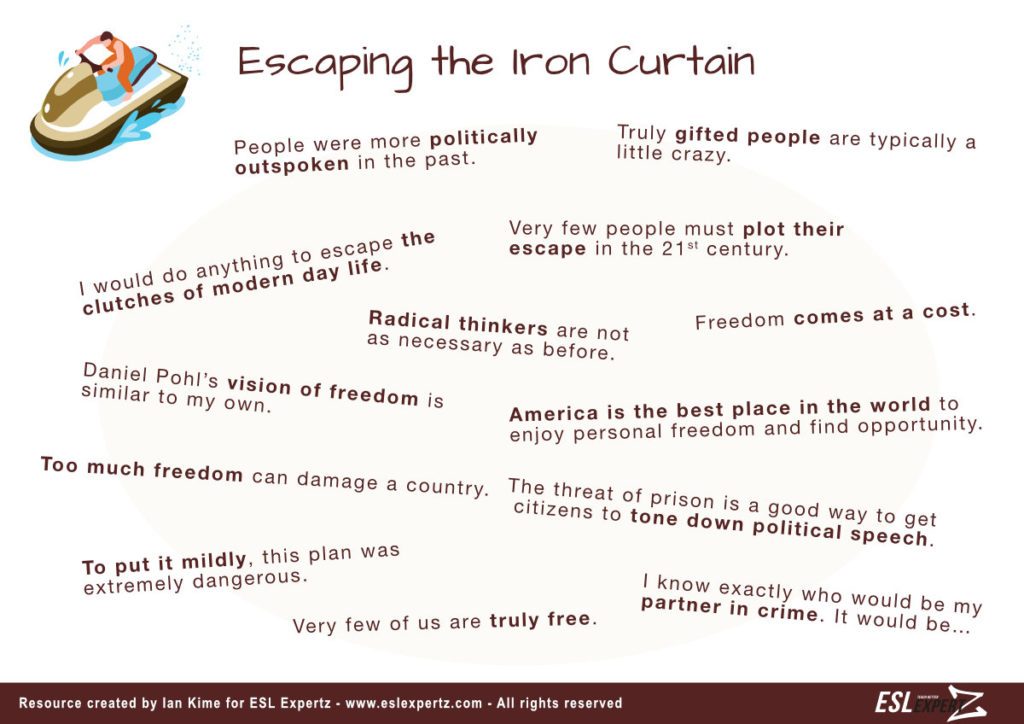 In the video, the phrase "politically outspoken" was used a few times, so we put it in bold here, "People were more politically outspoken in the past." By listening to the video twice and understanding the context, this type of expression is often understood naturally.
Here is another example from a video about the social credit score system in China:
Here we have some vocabulary that comes directly from the video such as "a moral society," "a model citizen," and "public humiliation" along with some others not found in the video such as "get used to it," "no way in hell," and "scoring system."
Sometimes, I also use Studystack to create some vocab matching exercises, like this one for the social credit score in China, but not every time. Feel free to share your study stack matching exercises in the comments underneath the Speaking of… blog posts.
I guess I'll show you a fourth one, just for fun. Can you figure out what the topic is?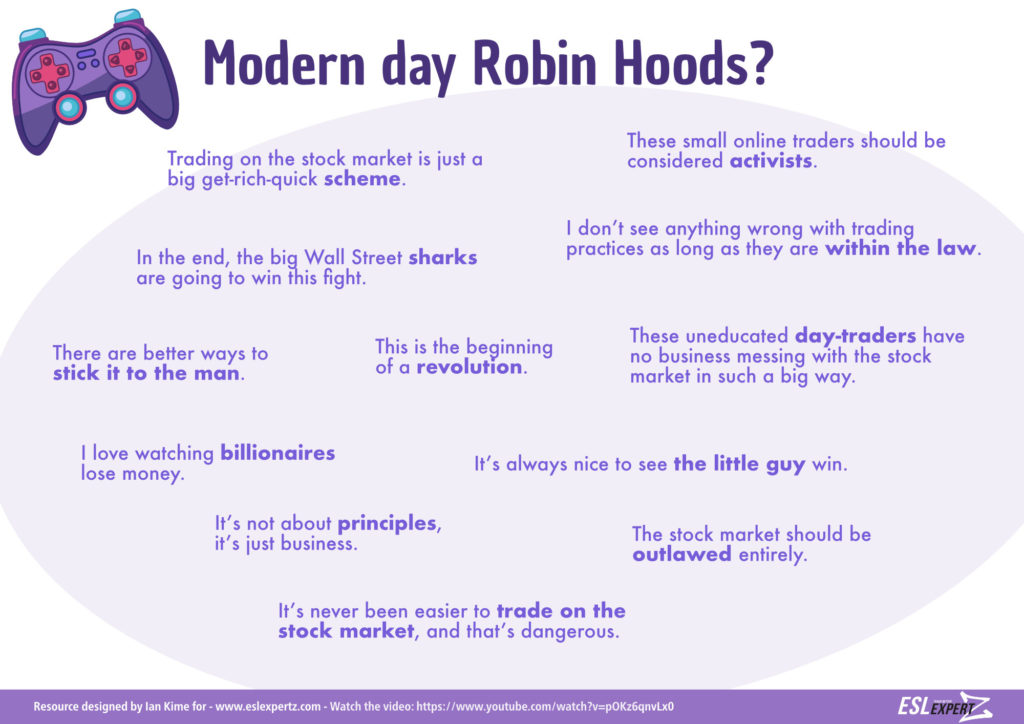 Bonus activity:
I have some groups, on certain days, where the discussion aid is enough to keep them talking for an hour, but other times the discussion naturally ends a bit quicker than the class time. What to do? Stretch the conversation with annoying questions that will bore your students or make them feel like you have no idea how to do your job? I've seen many teachers who feel like, as long as they are talking, then the class was good and their students are happy. I don't buy it. Feel the room, or zoom chat, and know when it's time to finish that discussion and move on.
Luckily for you, we've got that last half hour covered for you. All of these activities come with a bonus activity that is connected to the material and discussion (sometimes loosely). This is an activity that you can pass out (or screen share) and simply observe your students and help out from time to time. They are meant to be autonomous task-based activities and get your students talking amongst themselves.
I love task-based activities like this because it works two important foreign language skills:
the TL and/or vocabulary from that specific lesson
interpersonal and cooperative language skills
During the discussion, students have some opportunity to work the TL, but during the activity they'll need to navigate basic cooperation in a foreign language such as leading a group, being polite, interrupting others, adding an opinion, debate, etc. It may take them a minute or two to really get going, but after that you'll have to give them a 2-minute warning to get them to stop!
The activities are usually mean to be fun and slightly comical, but the level of humor definitely depends on your group! For the video on a recent stock price bubble, they'll have to explain the volatile stock price of an imaginary company: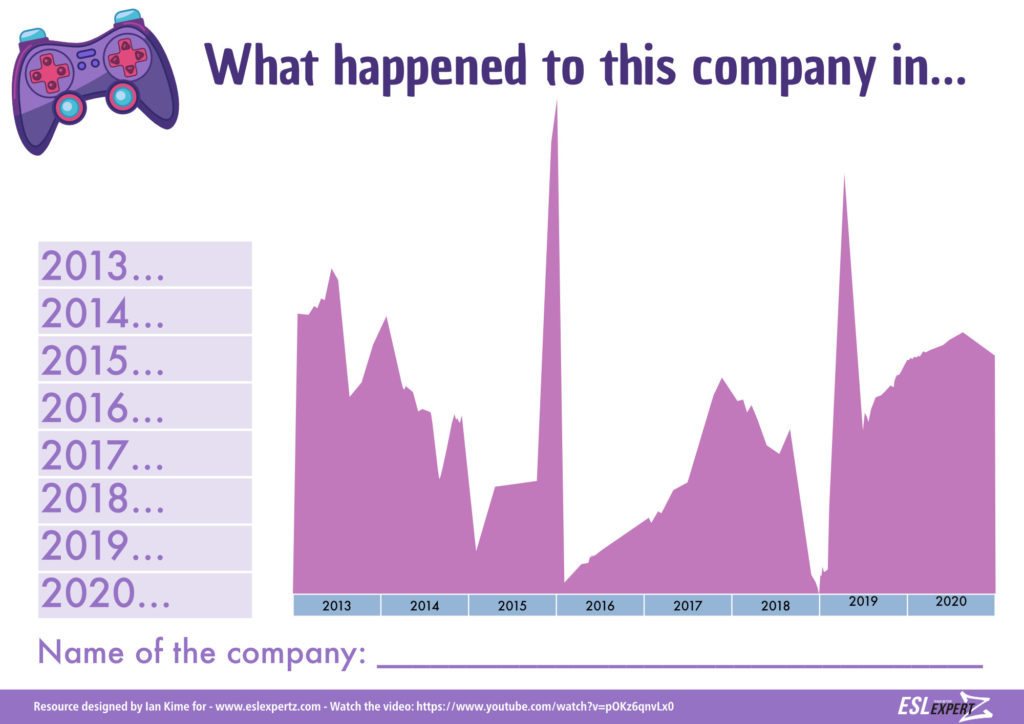 Some of my groups took more time to come up with the name of their imaginary company than explaining the stock price, so maybe help them figure that out first!
In this activity, from the video on social credit scores in China, students will have to come up with their own scoring system. Make sure to give them plenty of time for this as the pre-made behaviors are intentionally vague, and therefore, it takes a bit of argumentation for students to come up with a solution.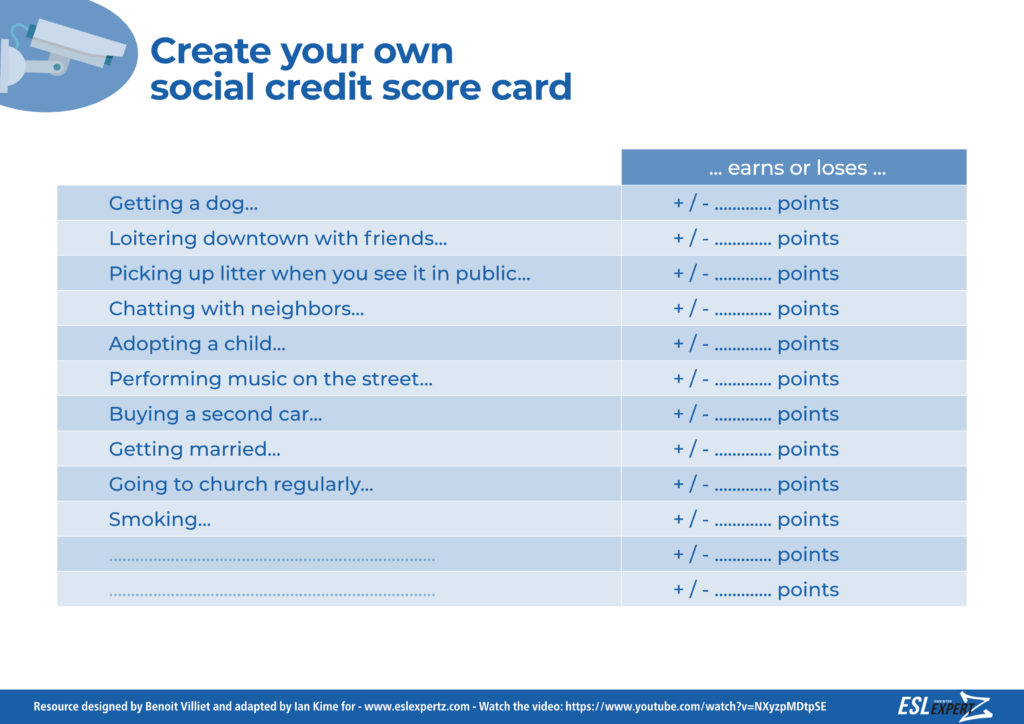 At the beginning of the Bigfoot Family discussion activity, students will watch the trailer and then discuss it briefly using the same sheet as for the activity. In the activity, groups will create their own "politically charged" children's cartoon movie. Because it's a cartoon, anything can happen, so it's a chance for your students to have fun and be creative.
I make these activities because I use these activities. They give me an aesthetic structure to follow in my classroom and are particularly well-suited to my online discussion groups. For the activities, I use the breakout room function on ZOOM or Learncube to put students into pairs or groups of 3 which guarantees ample speaking time for all participants. I think my students appreciate the mixture of serious discussion and slightly comical activities. They feel like they learn something and practice their discussion and presentation skills in English.
There are more on the blog and more in the pipeline, so keep a look out for the latest "Speaking of…" activities in the weekly newsletter. The hardest part is always finding the right material. If you have any ideas for short videos on YouTube that might be useful, leave them in the comments and we'll see what we can do 🙂
Check out all of our current Speaking of… activities by clicking here.
Happy Teaching,
Ian