In case you are interested in helping your kids with English, this is the new Zetflix show: follow my journey with K. as I help her improve and understand what the heck is going on in her English class.
Week 7: March 29
Day 0:
On Sunday, we had some homework, as K. had to translate a text into Polish from her textbook. This is something I would never request from a learner. But well, she had to do it, so she did it. And I helped a bit.
Day 1:
Late English class today, so we didn't do anything new. Tic Tac Irregular was used once again. But I want K. to remember the very basic verbs that are in the middle, so we played today only in the centre, as you can see.
Good news is she now remembers the meaning of all those verbs, except for "remember". We are slowly moving forward. Next step will be to master the verbs in the middle sector. I need to think about a way to do that. She probably knows some of them already…
Day 2: vocab booklet
Today was different. We prepared a vocab booklet. Very simple thing to do, but very effective from what I remember from my German lessons (back at school, ages ago). Every new vocab item has to be written down in this booklet, within a sentence in TL. So we will now have to write two or three new items at the end of every learning time we have together.
This is, among other things, a step towards mastering the verbs I wrote about yesterday. We'll see what comes of it.
While choosing the first three items of our booklet, we saw some nice examples of TL. Beware: working at "word level", as in this booklet or in the Tic Tac game is easier for the teacher (and the learner), but less effective than working at a "convey a meaning level". It also reduces my use of the TL, as sentences that are good examples are sometimes hard to explain without translation.
Day 3 and last day of the week:
As I explained last week, learning a language is about using it again, again and again. As a "teacher", I have to provide K. with opportunity to use the TL in various ways, without adding too many new elements all the time.
Therefore, I came up with this activity based on "The Question Game", in which you have to create questions, based on a list of answers. As K. is working on shops and means of transports, I came up with two lists of answers, and she had to make up questions.
Content involved in a single and simple activity: frequencies, basic verbs, questions, vocab, can/can't.
We even managed to use "were you" (we used it once during week 5), and I really feel like we need to start diving into the past tense.
That would give K. so many possibilities to express more things. Wait… what did I write 5 lines above this? Right. You got it. We need to find a balance between new knowledge and practicing what we know.
Unless we use the discovery of new things to practice what we already know.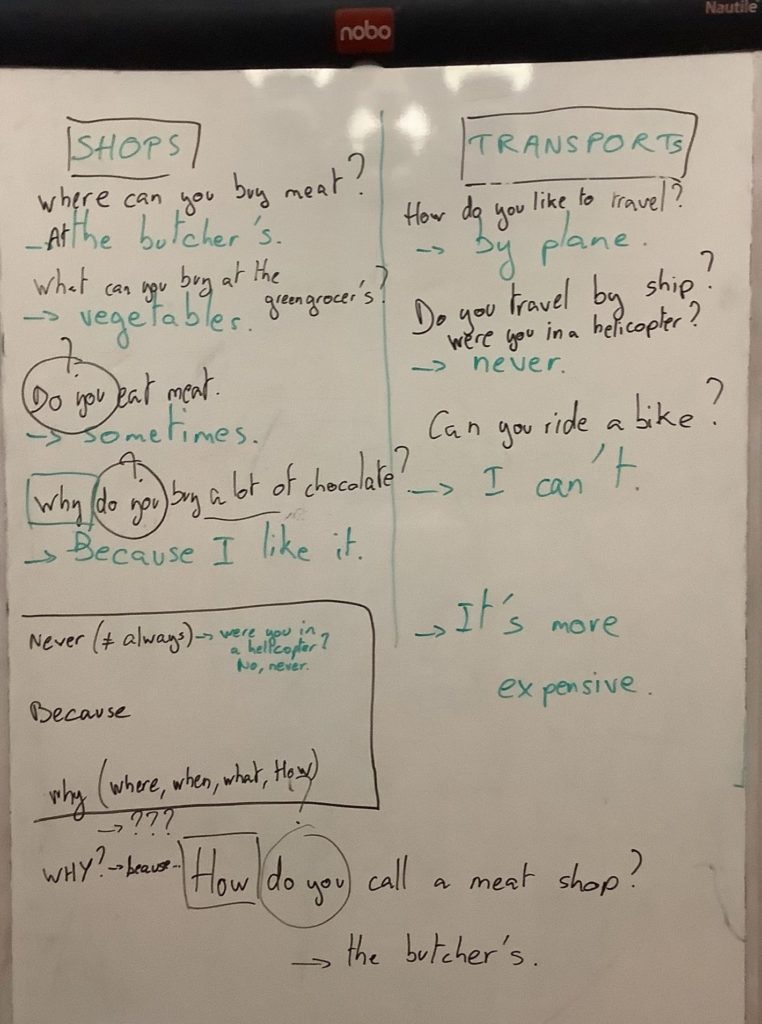 Here is the three words we wrote today in the vocab booklet: Never, because and why.
That's it for this week. Easter is coming and kids are on holidays for 6 days. See you next week.