The show must go on! To be honest, I'm not sure anymore if I'm doing this because my daughter needs it (see first post of the series) or because I started this project and can't stop after only 2 weeks. That would look like I am not a person you can rely on, and I hate looking like a person you can't rely on. I hate it probably as much as I hate seeing things through to the end… Well, never mind.
Week 3 (March 1)
Day 1 and 2:
Nothing today, although there were several occasions to ask "What are you doing?" Using some TL in daily life matters. To be honest, I used the TL, K. listened and sometimes answered with a few words. But it feels like she is moving forward.
Day 3:
Today I wanted to work on "daily habits" and I used one of my favorite resources: a poster I use to talk about normal days. K. basically had to link beginnings and ends. As you can see:
I need to change the toner in my printer.
I only have a black and white printer at home
(which you don't care about).
This was probably too hard for K. and she wasn't able to make much of it. This resource requires a lot of autonomous work, intuition and self-confidence.
Still, K. was able to make three sentences. Then, we practiced adverbs of frequency sometimes, often, rarely… She had to write one thing she does rarely, often and sometimes. Again, nothing new here, it's all stuff she knows but hidden far far away in her memories.
Day 4:
Today, I wanted to leave aside verbs and all we have done since the beginning. Let's do something fun. I checked in her textbook to see that she had done prepositions of place, so……. let's go for the sheep.
This game was created for learners of french back in 2015, and adapted for ESL a few months ago. Trust me, you can be the worst teacher in the world, this works. You have cards like this one: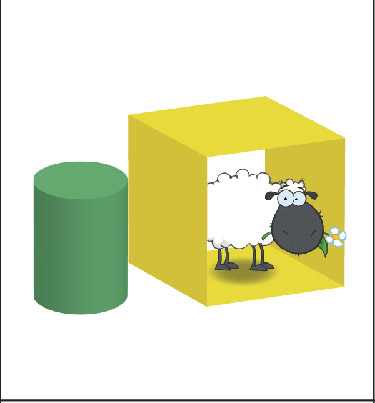 The goal is to locate the sheep by using prepositions of place. ("The sheep is in the cube, to the right of the column")
We started with what we call the "cheat sheet", just to check that K. knew what we were talking about. Most prepositions were known (in theory).
It's fairly easy, you just have to ask "Where is the sheep?" (you can also ask "Where is the cube?" right, it's ok 🙂 )
Next step: I showed her a screen with many of those images. I describe one of the images, and she has to tell me which image it is. To understand what I am talking about, just check the video demo of the game of prepositions of place. (Just in case, if you do this online with a group, use the chat and give a point to the first person that gives you the right number, it is hilarious)
Day 5:
Today I wanted to start something more creative: create a sketchnote about "a great weekend".
I used a large piece of paper and some images that I took from the sketchnotes we have on our FSL website (not yet adapted for ESL, but can't wait). I gave her the following images:
jesaisparler-13smartphone (glissé(e)s)

K. had to choose which images she wanted to use to talk about "a great weekend".
I didn't think it would take her so much time, so we didn't accomplish much today.
This activity will be carried on on the first day of next week.