Once upon a time, in a galaxy far far away lived a Dad who loved his kids.
In pandemic times, he also loved to see them going to school, so he could have some f****** silence in his little flat.
Never mind, if you have kids, you probably know what I'm talking about.
At some point, a beloved daughter (let's call her K.) needed to attend a new school. In this school, a good level of English was required. So Dad, as a French teacher, but also a formidable English speaker, decided to sit down with her for 15 minutes a day every day so her English could improve.
And they lived happily ever after.
Seriously?
No. That's a fairytale.
Now, let's get to the real story.
Mission (maybe)possible:

I need to help my daughter improve her English in the next 4 months. I've decided to spend 15 minutes a day with her to work on it. Here, you will find the material I used along with some explanations in case you want to use them.
Hope it helps. Let's go!
Week 1:  February 17, it's a Wednesday –  first "half week" really 🙂
The first thing I did was to check out K's textbook to figure out what she was supposed to know. To give you an idea, she has been learning English for 4 and a half years in the Polish public school system. As I might've expected from a kid in France (did I mention I am French ?) she has some English grammar and vocab knowledge that she can't really use to say anything useful.
My goal is to get her to apply her knowledge, not add to it. While accomplishing this, I also want to strengthen that knowledge, as it is (unfortunately) what tests will be based on.
Day 1:
I put two pictures on an A4 sheet and asked her in English (I try to use 90% of the target language) to write 3 things about each picture.
Here is the file :
1. 2 photos

The task went like this: You have 5 minutes to write 3 things about each picture. To help, I gave two examples.
This is what she came up with.
Mistakes are the least of my concerns right now. My goal is to get her to speak and use the TL, so I don't dwell on her mistakes. That will come later…
I used this basic pattern to ask her question and to talk with her:
How old is she? I think she's 6. How old are you?
Who is next to her? Maybe her sister is next to her. Who is next to you?
What does she like to do? I think she likes to swim. What do you like to do?
What is she like? She's funny and happy. What are you like?
What does he look like? He is tall and old. What do you look like?
etc.
And so on. We practiced information questions (who, what, when, where, why), the three description questions ("What is he like?", "What does he like?", "What does he look like?"), and other basic "be" and "do" questions along with some vocabulary.
Nothing new for her, but I can feel she needs to practice. Especially with the three descriptive questions! They can be quite tricky at first…
That's all (for today), folks.
Day 2:
Today I thought we could practice "rooms". But let's be honest, it's more about finding any subject where we can use easy TL to communicate. This way, we can practice and "activate" things K. already knows.
So here is what I gave her:
2. flat

K. had to decide how to use each room and answer other questions about them. "Which room is yours?" these kinds of things. I gave her five minutes to work on her own.
It's very important to me that she understands she doesn't have to give me "the right answer." There is only one type of right answer in language learning: an answer in the TL that conveys a meaning I can understand.
Here is what she made of it. She writes in blue, I'm in pink.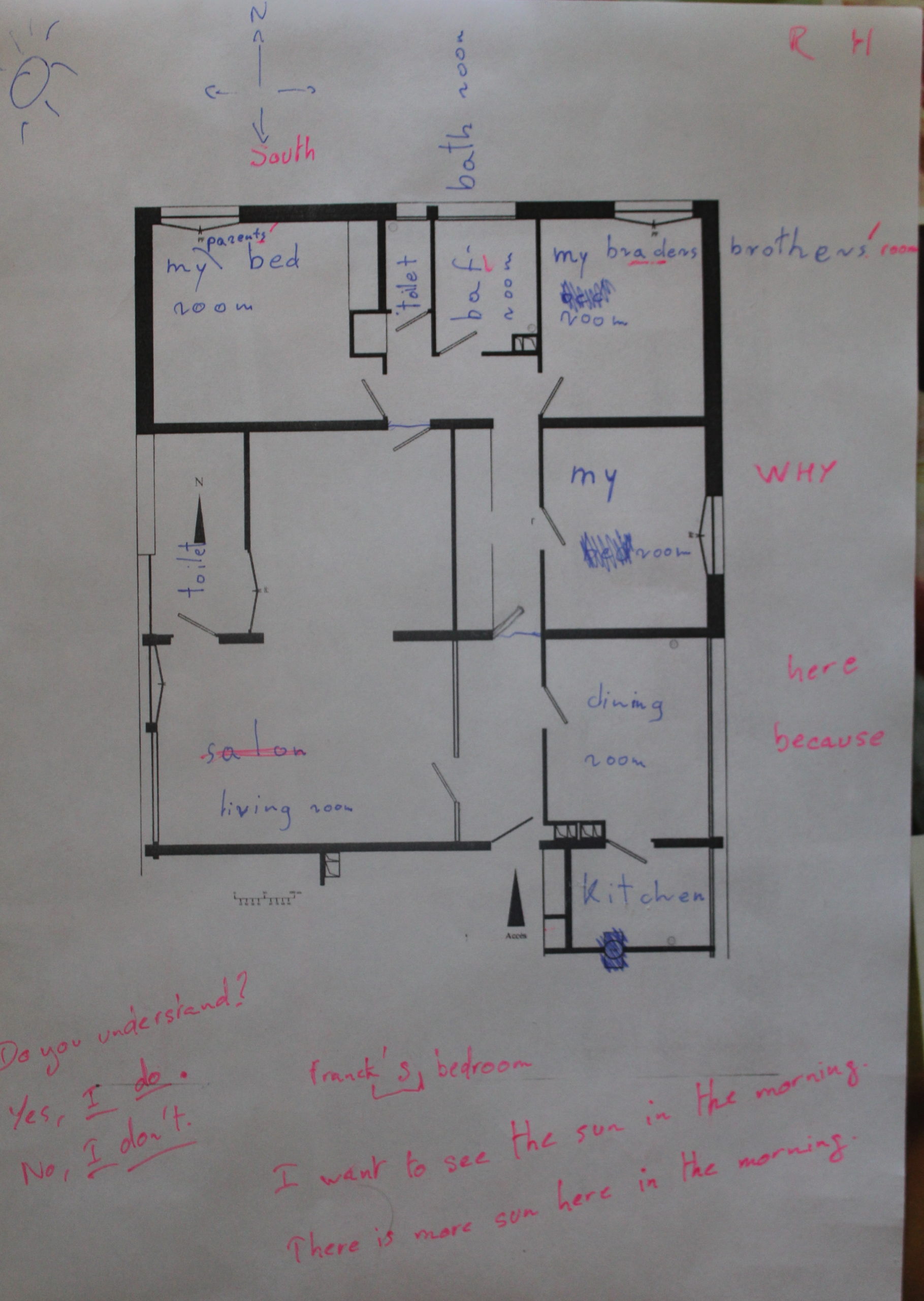 Here are a few things I wrote on the back of the page.
As you can see, this gave us the opportunity to work on spelling, names of rooms (obviously), but also short answers (yes, I do; no, I don't), adding an -s when the subject is he/she/it, don't and doesn't, using the possessive apostrophe for ownership, why and because ("Why do you want this room ? Because I like the sun.")…
It is a lot of grammar and vocab in context. Once again, nothing new in theory (I checked in her textbook) but a lot of needed practice.
Day 3:
Today we used the "Let me introduce myself" poster. I have to say I love this poster, and I love it even more after using it with K. I used the French version several times, but this was my first time with the English version.
In this poster, you have to associate the beginnings and ends of sentences to introduce yourself. It is specially made so beginners will always find vocabulary they know and pairs they can connect. More advanced learners will also find something new.
Most of all, it helps learners understand that they don't need to understand everything, but have to focus on what they know.
Lastly: it's a good tool to work on negation, as many won't be true unless you transform them using the negative.
We had really good fun and used a lot of TL.
Once again, I use pink and K uses blue. This is what we accomplished: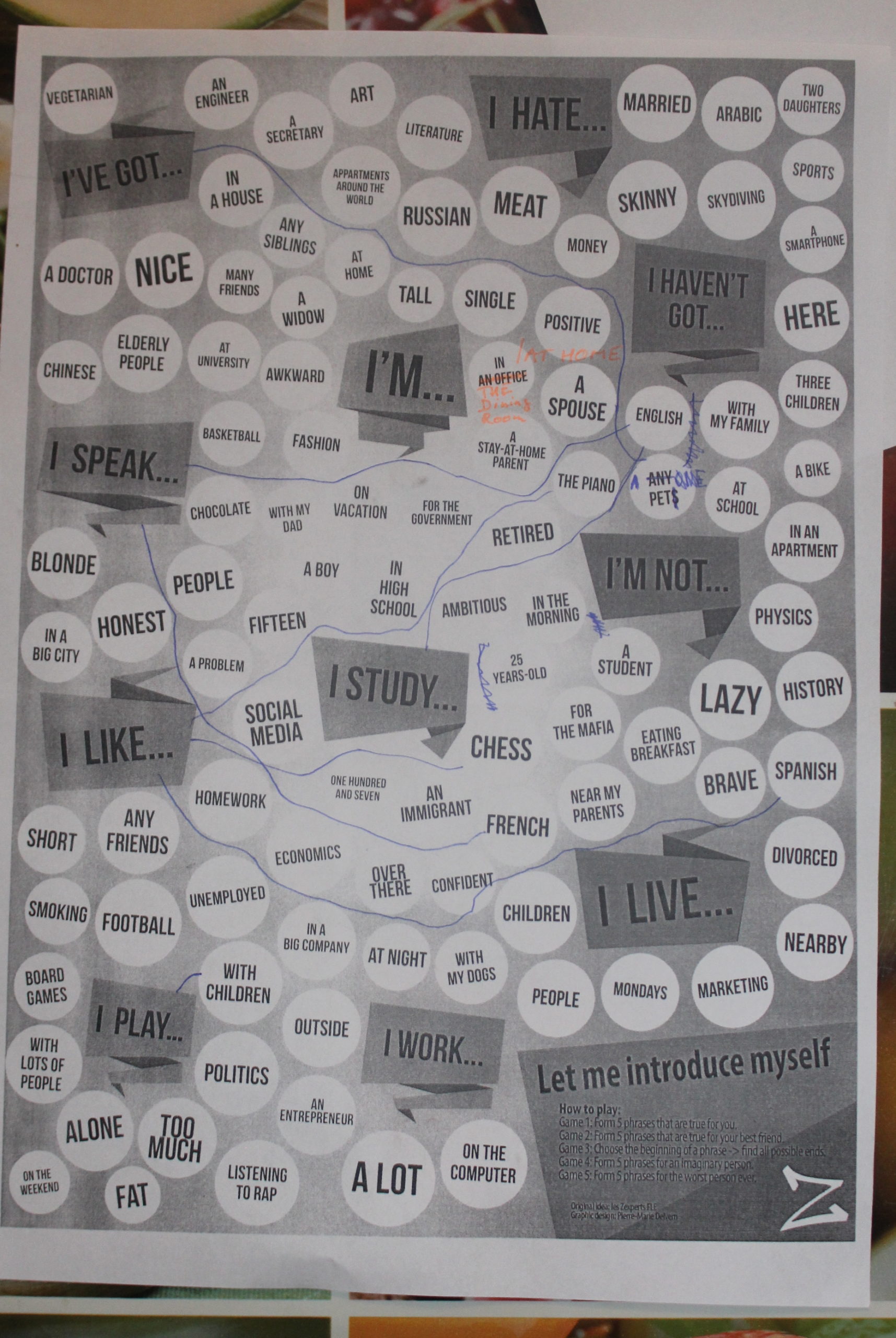 That's it for this first week. I have to say, I'm quite proud of myself for starting this. I hope results will follow.
If you want to download the files (except for the "Let me introduce myself" poster), just put your email address below and the links will appear. We will keep you updated with new resources we create and future posts of "English with my kids".